Solutions for the NGSS and 3-Dimensional Instruction
Carolina Kits 3D® investigations are built from the ground up to engage students in scientific and engineering practices while applying core ideas and crosscutting
concepts—experiences that are key to thriving with the NGSS and phenomena-based learning.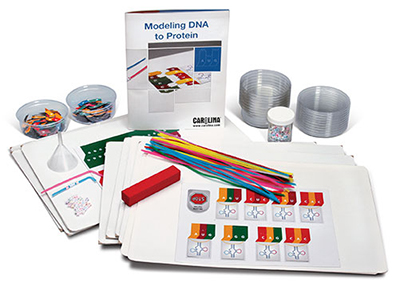 Standards Made Simple
Three-dimensional learning combines what scientists and engineers do with what students need to know and with concepts they need to understand into a learning progression.
Three Dimensions of Learning
Science and Engineering Practices
Science and Engineering Practices that describe what scientists do to investigate the natural world and what engineers do to design and build systems.
Disciplinary Core Ideas
Disciplinary Core Ideas with broad importance in one or across multiple science or engineering disciplines.


Crosscutting Concepts
Crosscutting Concepts that help students explore connections across Physical Science, Life Science, Earth/Space Science, and Engineering and Technology Design.
With each investigation, we've done the legwork for you.
Every Carolina Kits 3D manual features a table that identifies the specific dimensions addressed in the activities.


Students make sense of an investigative phenomenon and driving questions.


The teacher's manual clearly identifies NGSS performance expectations and learning objectives


The materials you need for a successful, safe lab experience are included in the kit.


Digital tools facilitate and supplement the lab.
Count on Carolina's Kit Development Process
For more than 90 years, Carolina has supported educators like you as they face classroom challenges, and this time is no different. We've jumped in with both feet to develop lab kits you can trust and that can make your job easier as you implement new standards in your classroom.
View White Paper: Carolina's Teacher- and Student-Focused Kit Development Process
Carolina Essentials™ Activity Series
These free activities incorporate teaching and learning methods that include phenomena, driving questions, student investigations, modeling activities, and assessment questions.
Browse the Activities
What Teachers Are Saying
Fun and Easy Genetics Lab

"I ordered this [Wisconsin Fast Plants® 72-Hour Monohybrid Genetics Kit] for my high school biology class. It was easy to set up, almost foolproof, and the plants were easy to take care of over the next few days. They grew quickly and the students were able to see visually what Mendel did and what he saw. It reinforced all of the concepts that we talked about in class and was fun and interactive as well. The class loved it."

High School Biology Teacher
Concord, CA
Gotta Love It

"My students love doing this dissection [Carolina® Forensic Dissection] as an autopsy. They work carefully at the cuts then remove the organ systems intact. This allows them to easily see how they are connected before continuing with dissecting the organs themselves. It gives a different spin to a regular dissection lab."

High School General Science Teacher
Westover, Maryland
*Next Generation Science Standards® is a registered trademark of Achieve. Neither Achieve nor the lead states and partners that developed the Next Generation Science Standards were involved in the production of, and do not endorse, these products.